903-883-5101
Rainwater Harvesting
Check out our DIY Kits!!!
You can find us on Facebook!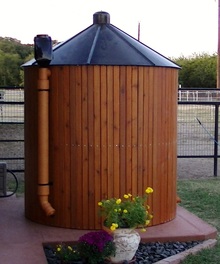 History

Rainwater Harvesting is an ancient technique enjoying a revival in popularity due to the inherent quality of rainwater and interest in reducing consumption of treated water.

Rainwater is valued for its purity and softness. It has a nearly neutral pH and is free from disinfection by-products such as salts,minerals, and other natural and man-made contaminants. Plants thrive under irrigation with stored rainwater.

Archaeological evidence attests to the capture of rainwater as far back as 4,000 years ago, and the concept of rainwater harvesting in China may date back 6,000 years. Ruins of cisterns built as early as 2000 B.C. for storing runoff from hillsides for agricultural and domestic purposes are still standing in Israel.



Benefits

The water is free; the only cost is for collection and use.

The end use of harvested water is located close to the source, eliminating the need for complex and costly distribution systems.
Rainwater provides a water source when groundwater is unacceptable or unavailable, or it can be used when municipal water restrictions are in place.
Rainwater harvesting is superior for landscape and garden irrigation.
Rainwater harvesting reduces flow to storm water drains.
Rainwater harvesting helps utilities reduce summer demand peak and delay expansion of existing water treatment plants.
Rainwater harvesting reduces consumers' utility bills.
Water your riding arena, lawn & landscape, vegetable gardens, livestock.
In times of disaster or water companies experiencing emergency water main breaks, you will have water!


What We Do
Rainwater Ranch is a family business committed to water conservation efforts. We see the numerous advantages rainwater harvesting provides first hand because we use this method on our farm!
Although our business is based in Texas, we offer rainwater harvesting tank sales NATIONWIDE for above ground vertical water storage. We now offer in ground Rainwater Harvesting complete systems. These are available in many different sizes and component configurations. Give us a call and we can help you design a system that is just right for you!

Do It Yourself Kits available for pick up in many different sizes. Rainwater Harvesting classes included with the purchase of a DIY kit. You will also learn how we purify our rainwater to make it potable!
We carry multiple sizes and configurations with or without a pump system. Every tank includes a 3 year manufacturer warranty.


Like us on Facebook!!